Bet9ja Stadium
Football at your fingertips 24/7
We've expanded our virtual offering with a brand new football game that brings you closer to the action. You can play an entire season in an hour with seven of the top leagues from Europe to choose from. You have the option to bet on up to 67 matches per game week, with more than half a dozen markets available per match. This includes the classic 1×2, correct score, goal/no goal and double chance bets, giving you plenty of chances to win.
What's more is that you can spice up your betslip by adding matches from multiple leagues from the same matchday, meaning there are no limitations to your betting combinations. With results settled after around 30 seconds of placing a bet in Standard mode, or just seconds in Turbo mode, the possibilities are endless at Bet9ja stadium!
HOW TO PLAY: Step 1:
To play our Stadium game, you must be logged in on new mobile only. You'll be able to see the Stadium icon at the top of your screen (highlighted in grey in image one), click to enter.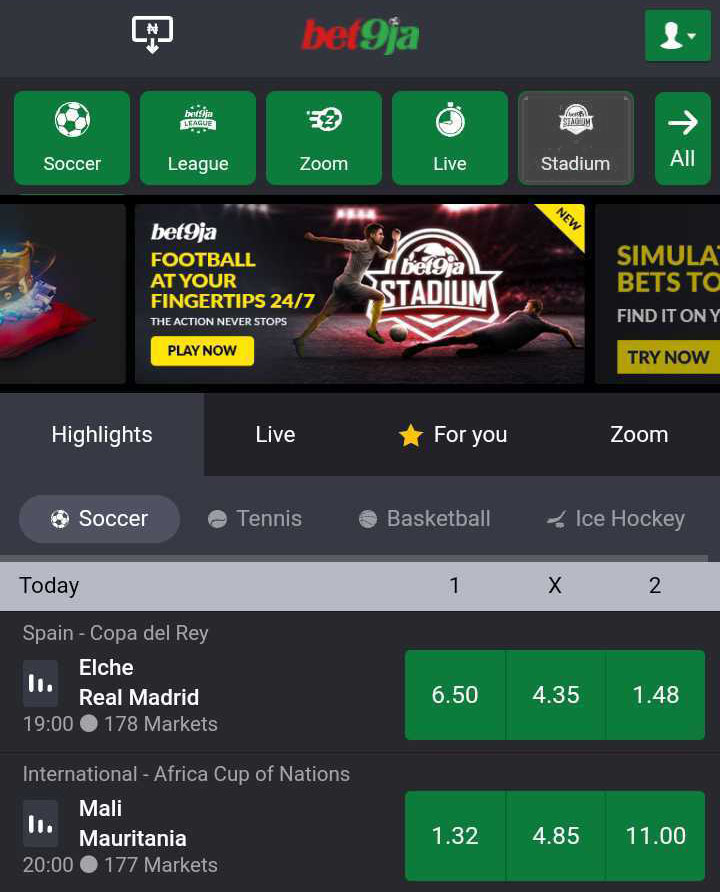 Step 2: Select the league you initially want to bet on. The seven leagues you can choose from are the Bundesliga, Serie A, Premier League, La Liga, Ligue 1, Primeira Liga and the Eredivisie. Once you click on the league you want to play, you'll enter the live game being put into a random game week.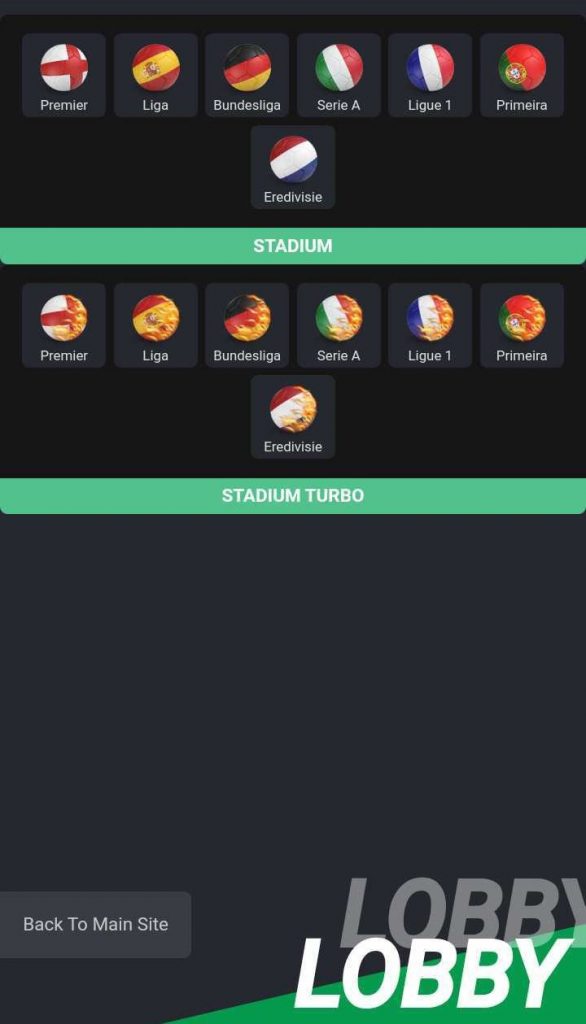 Step 3: Once you enter the season, you will have two minutes or less to make your selections. Overall there are two minutes between one matchday to another. Simply select the odds you want to bet on by clicking them from the list of available matches. Once you have chosen the matches you want to bet on from one league, you are able to go back to the menu and add bets from other leagues.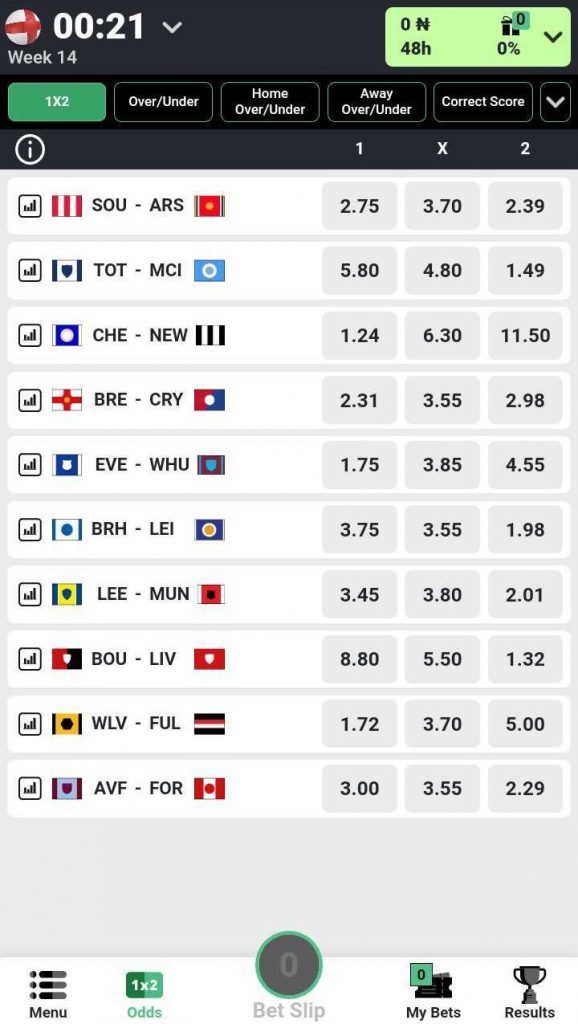 Step 4: If you want to select a different market, you'll have various options above the matches. Next to the automatically selected 1×2 market are the Correct Score, Goal/No Goal, Double Chance, Match Result + Over/Under, Over/Under, Home Over/Under, Away Over/Under, Multigoal, Multigoal Home, Multigoal Away, DC+Over/Under markets, which you can click on to add to your bet.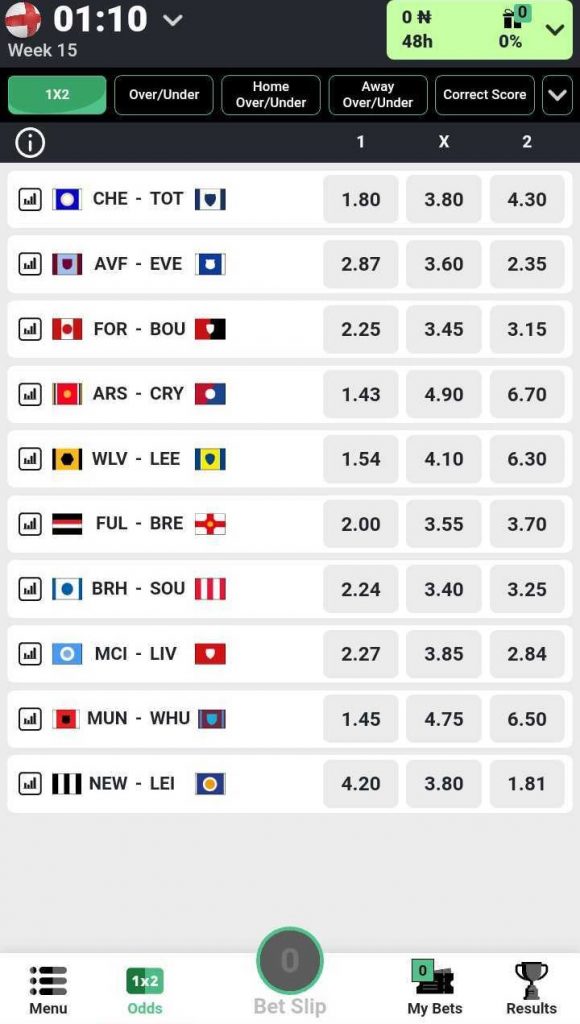 Step 5: Once you've made your selections, you'll find your betslip at the bottom of the screen. Insert your chosen stake – minimum of 50 NGN – and either a single, multiple or combined bet.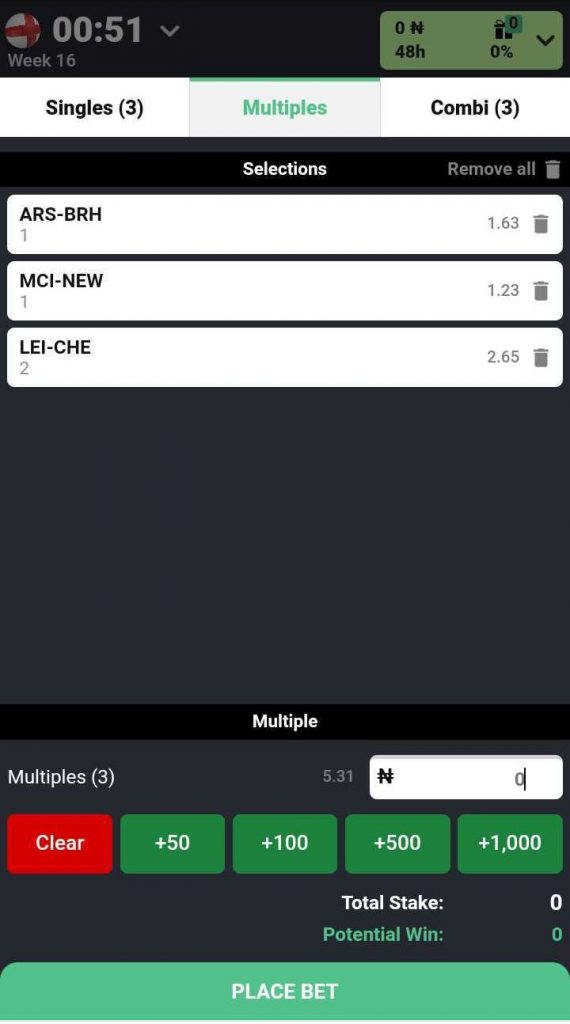 Step 6: Click 'Place Bet' but be quick as there are only two minutes between each game week. Once the clock times out, the action begins!
TURBO: You also have the option to play our Turbo mode. Turbo presents you the fastest virtual football game on the planet. The game play and concept is same as the standard Stadium mode, where you can bet on matches from the seven leagues mentioned in step two. But with Turbo, you take the waiting out of winning.
Results are settled in seconds, and you can complete a season in minutes! You have unlimited time to make your selections if you go straight to 'kick-off', and two minutes if you choose to place 'more bets', and you can get your winnings straight into your account before you know it. Blink and you'll miss the action!
LOYALTY BONUSES: Each bet that you place within the time frame displayed gets you closer to a free bonus. The bar will fill up the more you bet and once the bar reaches 100%, you will earn a free bonus. After claiming your bonus, you will move up a level which means the next time you reach a bonus, the amount will be larger.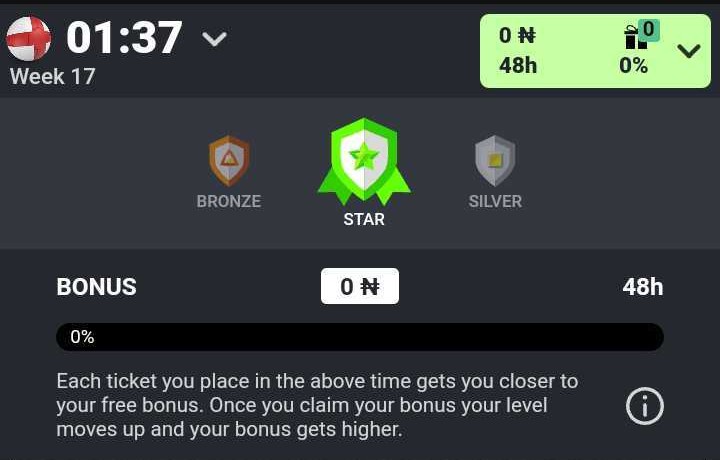 MENU: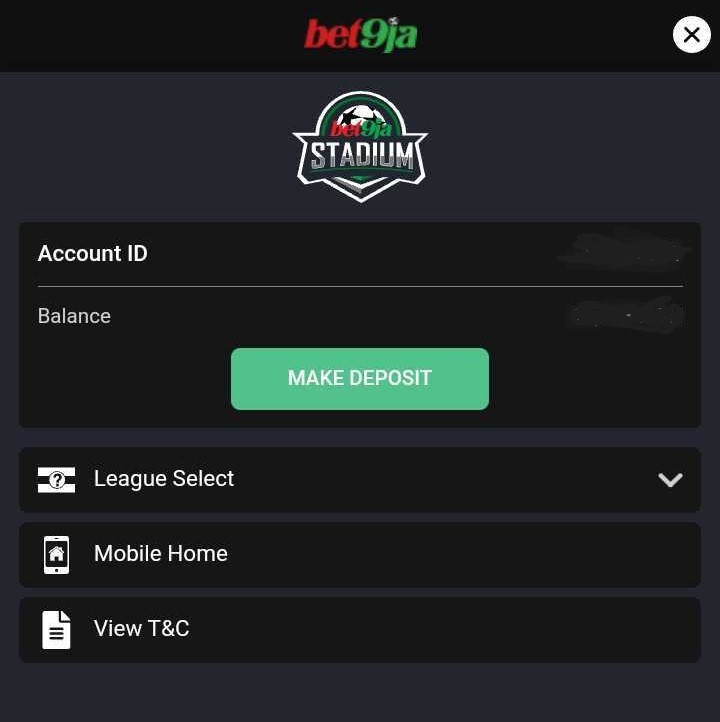 Click on the menu button on the bottom left of the screen to open the following options:
Deposit – Click to add funds to your account.
League Select – Pick the league, or leagues, you want to bet on.
Mobile home – Click to return to the Bet9ja homepage. Remember, you must be logged in to your account to play Bet9ja Stadium. Forgotten your log in details? Simply click here.