How to use the Bet9ja Soccer Page
There's a new and easier way to bet on the nation's favourite sport at Bet9ja. We have created a dedicated Soccer Page so you can access all your favourite leagues and competitions in one place.
The new Soccer Page allows you to select matches from more than 60 leagues globally, and all the best competitions. You can view future matches up to a week in advance, the most recent upcoming big games, as well as specific outrights and exclusive player markets.
You now have everything in one place to build your coupon or bet on any match that fits your preference. The football truly never stops at Bet9ja!
HOW IT WORKS:
Desktop:
Pick your favourite leagues
Go to sports.bet9ja.com and click 'Soccer' on the left hand side to find the dedicated Soccer Page.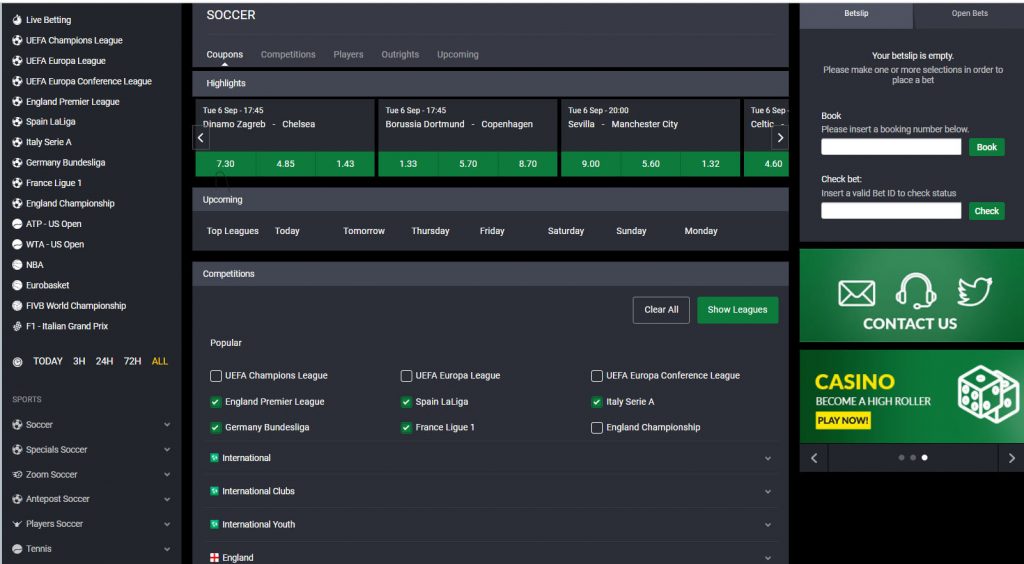 The Soccer Page gives you the option to build your coupon with matches from different leagues. From the Competitions section, you are able to select your favourite leagues, which will allow you to see all the upcoming matches from what you have chosen. For example, if you selected the English Premier League, Spanish La Liga, Italian Serie A, German Bundesliga and French Ligue 1, you'd be able to view all the matches for up to 10-12 days across the five leagues all in one place. It's a simple way for you to add multiple matches across multiple leagues to your coupon, from any available market you wish.
Multiple markets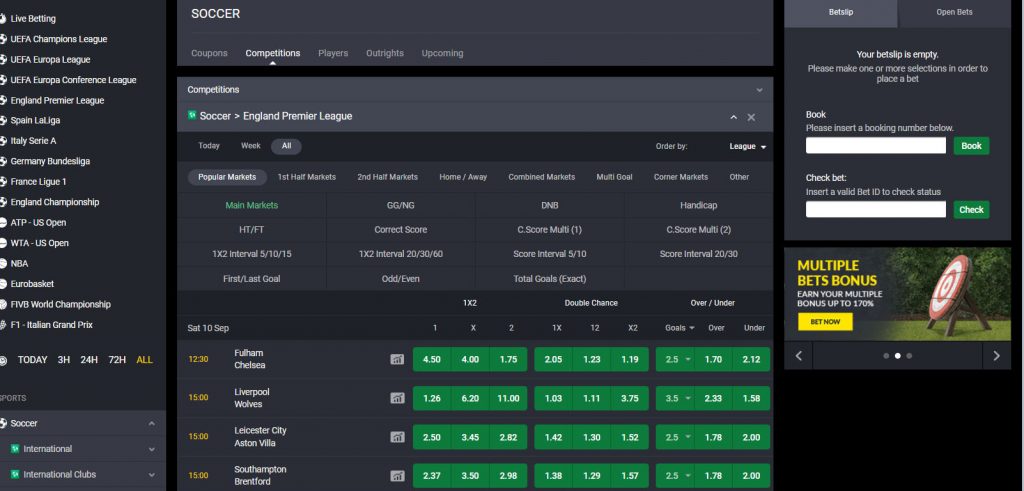 Once you have selected the leagues you want to bet on, you then can choose which markets you want to view. These include the popular markets such as 1X2, Goal/No Goal, Correct Score, Handicap, Total Goals and much more. Feel free to add different markets to your betslip. For example, you might want to predict the match result of one match on your coupon, or the Correct Score of another and add to the same bet slip. Once you've made a selection on one match, pick another market to add a different event and create the perfect coupon for you at the touch of a button.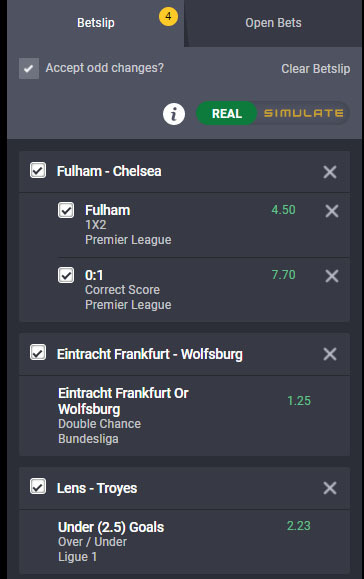 Who will score?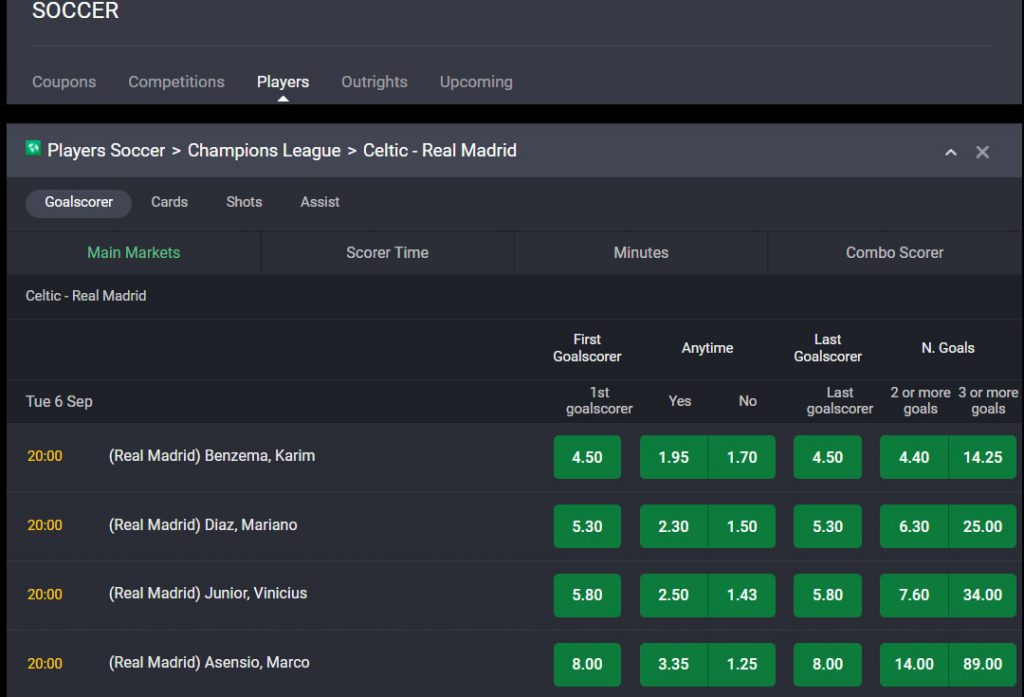 You are also now able to partake in multiple player markets with Bet9ja. By going onto the Players tab, you can select any match available and the market you want. For the Goalscorer market, click the tab then pick your desired match. You will then be able to choose which player you think will score from the list of players provided.
For Goalscorer, there's a full variety of available markets such as First Goalscorer, Anytime, Last Goalscorer and the number of goals a player will score, to choose from. Also available is if you think a certain player will score in the first or second half, what period of the match ranging in multiples of 15 minutes, and combining a particular player to net and the correct score of the match.
There's also Cards, Shots and Assist markets to bet on under the Players market.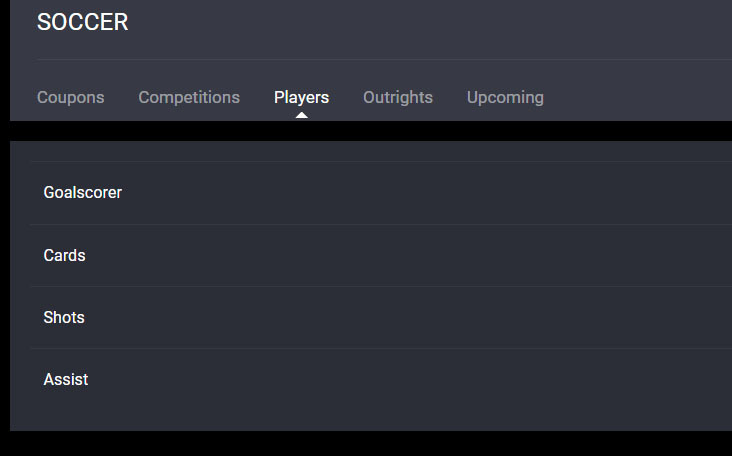 Predict who finishes where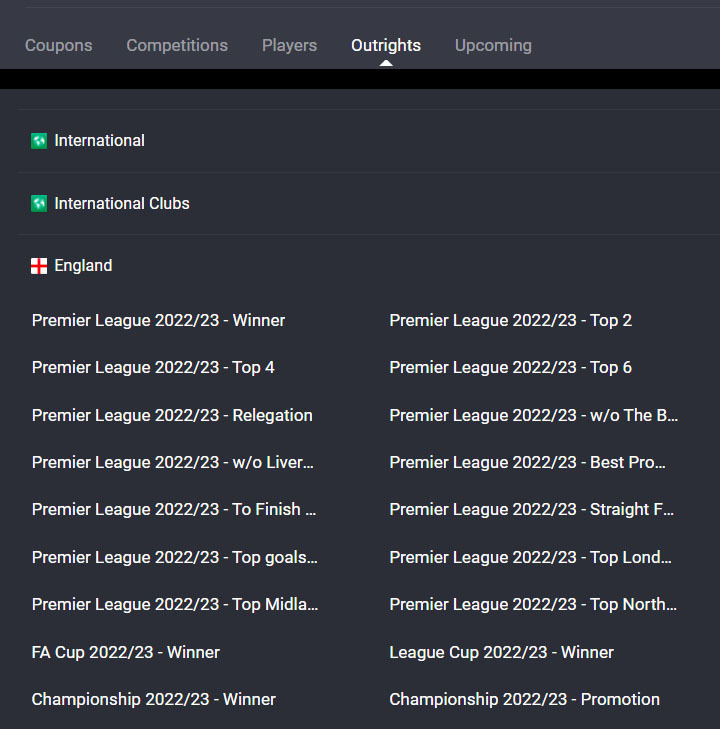 Another feature of the Soccer Page is the ability to bet on multiple permutations to the league season. For the English Premier League, you can bet on who you think will win the league, finish in the top 2, 4 and 6, be relegated, finish top goalscorer and much more. This is the same for all the major leagues, available for the full season. But if you think an outsider will win or get promoted from a certain league, don't delay in getting your bets in to receive the best odds!
It's never been easier to bet on all the best leagues and teams at Bet9ja. Head down now and enjoy the action in style!
New mobile:
Now available on mobile, the soccer page works has virtually all the same features as on desktop. Go to sports.bet9ja.com on mobile and click on the 'Soccer' icon at the top left of your screen.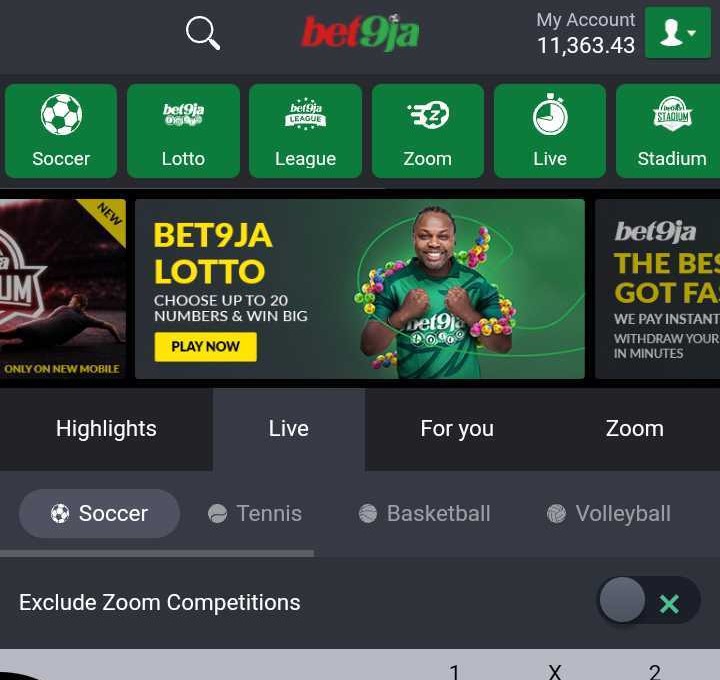 Scroll down to view today's matches and also future matches up to a week in advance.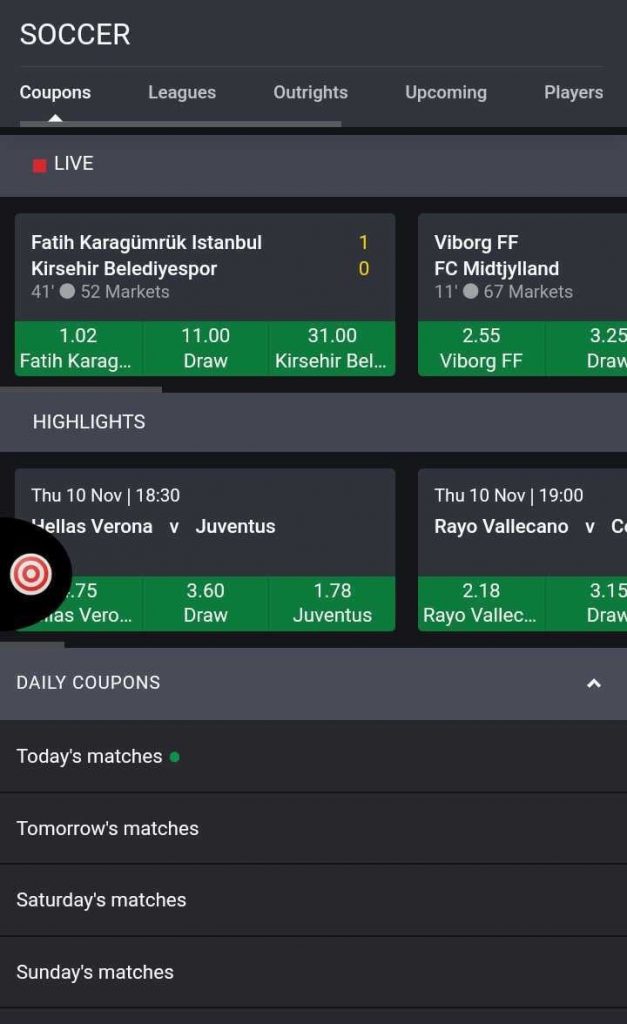 At the top of the page, you can view your favourite leagues, outright markets, upcoming matches, player markets and specials. The player markets available on mobile is goalscorer and cards.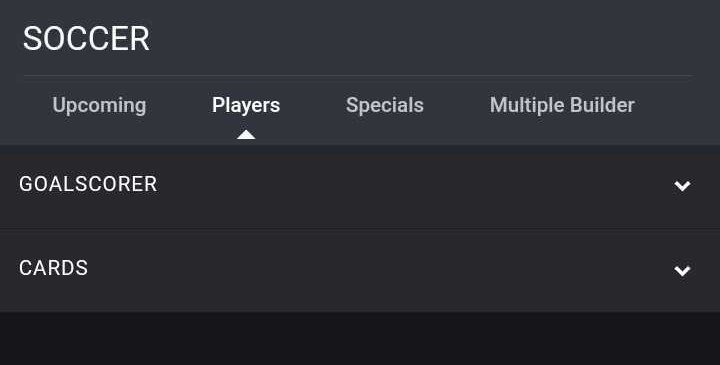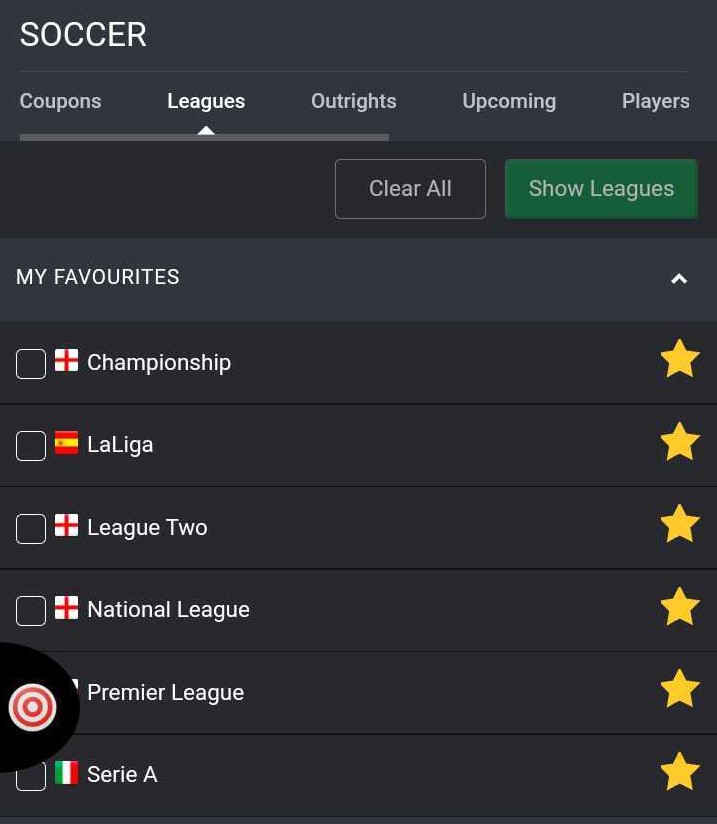 You also have the option to select your favourite leagues. Under the Leagues tab, scroll down to the country of your choice, click on it then click on the star icon, to add to your favourites list. Your favourite leagues will then appear at the top of the page.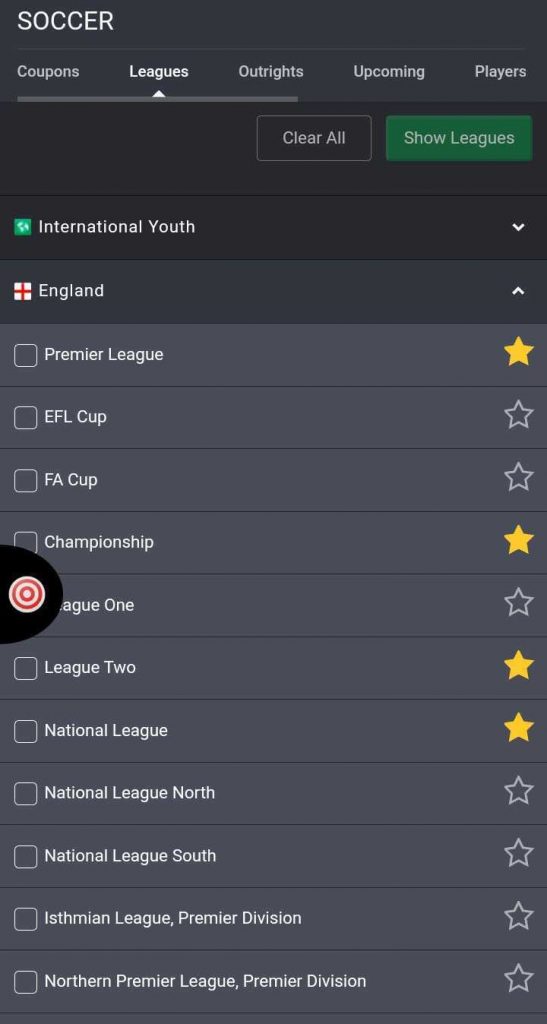 With everything you need now in one place on mobile, enjoy the soccer in style at Bet9ja!