Funding Through Flutterwave
Step 1. Visit the bet9ja website through a browser – https://web.bet9ja.com
Step 2. Log into your bet9ja wallet.

Step 3. Click on the deposit link when logged in.

Step 4. Click on the CONTINUE BUTTON besides Instant cards deposit.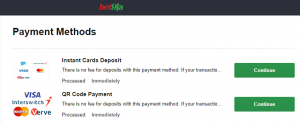 Step 5. Select Flutterwave and add the amount you want to deposit & click on the confirm button. Your wallet is funded immediately.
(NB: If you have saved your card details previously all you need to do is select your card and confirm your payment.)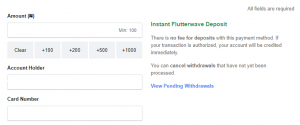 Step 6. If you have not filled your card details previously, fill in your details and confirm your transaction. Your wallet is funded immediately.